Cardinal Distributing"Your Bulk Vending Warehouse"
We are a real bricks-and-mortar company with over 100,000 square feet of bulk vending machines and supplies ready to ship to you immediately. All vending machines and products at wholesale prices!

Call us for your FREE Catalog: 1-800-368-2062



Email: info@cardinaldist.com Visit our website at: www.cardinaldist.com
<![if !vml]>
<![endif]>VENDING1 Launches New Website and Mobile Apps
Stonybrook, NY, 1/30/14 – VENDING1 launches new bulk vending wholesale supply website and mobile apps. Vending1 is the first to offer ordering via their exclusive iPhone & Android apps, or via their mobile enabled website and newly launched online website. Of course you can always call to speak with their friendly staff as well
VENDING1 has a large variety of quality toys at discounted prices and weekly specials with offers for Free boxes of product. We understand that the cost of doing business is on the rise and many costs are out of your control. We offer discounted prices on our products for the vending operators to help boost their bottom line.
Ms. Garrison VP of Sales and Marketing said "VENDING1 helps their customers long term success by having the right combination of new product innovation and an innovative e-business application infrastructure. We help guide our customers in choosing the right product mix and are always monitoring the marketplace to ensure we are offering the best sellers.
We offer a Rewards Progam for all customers to show our appreciation for their loyalty. Through this program they automatically earn points towards FREE product with every order. We look forward to continue to grow long term relationships with our customers.
Check out our website at VENDING1.com. You can also visit the app store or google play store to download our free VENDING1 mobile app, We can also be reached anytime at (631) 913-VEND. All calls are forwarded to our salespeoples mobile phones after normal business hours. "We are here for you whenever you needs us!"
About VENDING1 Inc. It is the mission of VENDING1 to provide Bulk Vending Operators with quality products at competitive prices, unsurpassed customer service and to be the industry leader in innovating product procurement with a superior technology platform.

Contact Information:

VENDING1
2500 Nesconset Highway
Stonybrook, NY 11790
Call 631-913-VEND (8363), Danielle Garrison,
danielle@vending1.com
,
Website:
www.VENDING1.com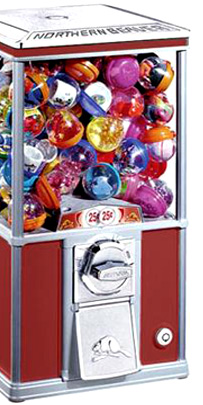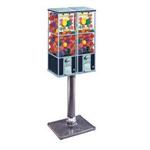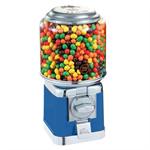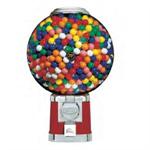 Gumball.com is the #1 ranked bulk vending superstore! Founded in 1993, we are the original internet distributor of vending machine products. Shop our amazing selection of vending products including a full line of gumball machines, snack machines, soda machines, coin changers, bulk candy, and vending machine refills like: gumballs, bouncy balls, vending stickers, toy capsules and more.
Have questions about candy machines, replacement parts, or vending tokens? We are here to help you with all of your vending machine needs. Did you know that you can make money only selling wishes with our coin funnel machine? Make buckets of cash without selling anything. Call 1-800-260-0010 visit website at www.gumball.com today!
Did you know that we offer custom printed gumballs for special events or promotions?
THE BULK VENDING EBOOK© ONLY $35.00


ISBN# 0-9667065-2-8
THE COMPLETE GUIDE TO START YOUR OWN BULK CANDY & GUMBALL VENDING MACHINE BUSINESS! You can start part time to build your new vending business!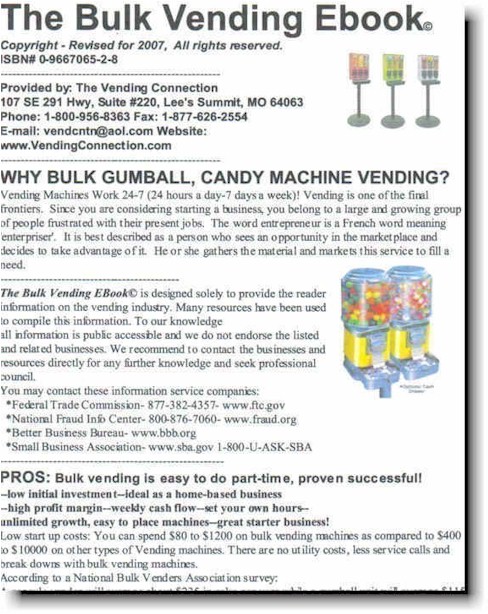 This 39 page Bulk Vending Ebook contains valuable information concerning:
The Pros and Cons of Bulk Vending, Candy Product and Gumball Vending, Bulk Product Types, New Interactive Gumball Vending, Charity Sponsorship,

Paying Commissions to vending locations, Expenses, Buying Products, Products that you can Vend, Special Tips, Record Keeping, Your Vending Budget, Route Service Cards, Location Evaluation, Location Call Script, Locating Companies, Charities, Types of Locations,

Sample Vending Service Contract, Route Management Software, Financing or Leasing, Insurance, Licensing, permits and more. Bulk Vending Suppliers Contact Listings, Quiz for Small Business Success, Vending Terms Dictionary. This is the Ebook for you if your are wanting to start your own candy / gumball vending machine route!
Click here to order!


Click on the following for more listings of bulk candy vending machine & product suppliers:

BULK VENDING GUMBALL & CANDY MACHINES
Bulk Candy Vending Machines
Bulk Vending Products, capusles, stickers gumballs and more!
Capsule Vendors
Charity Candy Boxes
Gumball Vending Machines
Honor Snack Boxes
Interactive Bulk Gumball Candy Machines
Lollipop Machines
Mint Machines
Sticker Vending

Want to have vending machines in
your place of business?
Click on the following links to find a vending service
company in your area!
Vending Machine Service Companies - USA
Vending Machine Service Companies - CANADA
OFFICE COFFEE SERVICE OPERATORS - USA


Click here to place your BULK Vending Machine Equipment Photo Display Ad
Only $125 per month, Photo Logo Links Included - Get Results Fast!
Your Photo ad will be posted within 24 hours! To edit your ad please e-mail us




VendingConnection.com - 1-800-956-8363
Home Page | Considering Vending? | FAQs | Vending Ebooks | Used Machines | Locators | Classifieds
Vending Trade Shows | VendNews | Vending Software | Parts Repair | Vending Supplies | Candy Products | Equipment Financing | Advertise | Site Map
BULK VENDING MACHINES FOR SALE ©VendingConnection.com, Copyright 1996-2013. All rights eserved.