"PRACTICAL KNOWLEDGE IS THE BUILDING OF SUCCESS"
The first Vending Start-Up Kit was originally published in 1996. And now has been revised for the year 2012,
to give you up-to-date valuable information, whether you are a new or existing vending operator.
Before you spend your life savings... READ THIS VENDING BOOK FIRST to get the knowledge you need,
and to make the right decisions. Saving yourself both time and money!
(INCLUDES HOW TO AVOID VENDING SCAMS) The research has been done for you, "Knowledge is Power".
100% Tax Deductible Vending Training Manual
You will receive this valuable 3-Ring binder Reference Guide, in a user friendly check list format, with over
85+ pages of information concerning the vending and coin operated business opportunities.
Along with colorful brochures of products & equipment, SAMPLE VENDING SERVICE CONTRACT,
business forms, vending route management software information, suppliers listings and more!
NOW for Only $99.95 Also Includes: FREE VENDING BUYERS GUIDE ($54 value)
+ FREE VENDING E-NEWSLETTER + FREE SHIPPING WITH PURCHASE OF KIT IF YOU ORDER TODAY ($25 value)!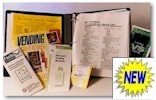 IN A HURRY? E-Book "TEXT ONLY" PDF version is now available!
Sent by E-mail NEXT DAY for only $75 click here NOW!
Click here for more info about starting your vending business.


Just a Few of Our Happy Clients!

"This is some great information! ..." ---Thanks JE

"I bought The Vending Start-Up Kit about 4 months ago, I have found it to be a great help!
I have learned alot, and now have a successful vending business of my own, thank you!" ----Godfrey G.

"I am so glad I found you. I am starting out in the vending business and have chosen the machines to
purchase. I am preparing a presentation to look for investors to help with start up costs. I have been looking for
magazine or newspaper articles to support vending, specifically bulk candy machines. It is great to know
there is at least one resource out there". -----Jennifer M

"I am thankful for companies such as yours that will give the novice person some insights on this
great business opportunity". ----Calvin Junior H

"I was looking for a hobby to get into which would bring in some extra income. Vending looked like a good idea.
I bought the start-up kit and last winter and it has been a very valuable tool in helping me to establish routes and
negotiating other issues which I never would have even imagined, such as inventory and cash control systems.
Thanks to the author for putting together this much needed publication". ----Vending Entrepreneur from Hoboken, NJ

"My name is Anne and I am trying to start a vending business. I have your Start-Up Kit and it is very helpful, thank you.
I really admire you both as business women...You have become very successful and that is my goal as well". ----Anne

"Once in a great while, I find a product that meets or exceeds its advertising promises. Your handbook,
The Vending Start Up-Kit, is one of those. Your information is concise, easy to read and up-to date.
I especially like the plastic sheet protectors that keep the pages neat and free from damage. I have limited vending
experience and few contacts in the industry, so you kit has been very helpful in finding resources for products and
information. I am certain that I have saved thousands of dollars in mistakes by reading your handbook.
Thank you very much for your interest in my success". ----Bob K
"I confirm, that I have just received the vending start-up kit today. It is excellent work. I really think I made a
good connection. Thanks and I want to receive more vending things from you". -----Louis


or You can Mail Check or Money Order Today for Only $99.95 to:
VENDING CONNECTION
107 SE 291 Highway, Suite #220 - Lee's Summit, MO 64063
We will mail the Vending Start up Kit right away, as soon as we receive your check.


Home Page | Considering Vending? | Vending Classifieds | FAQs | Vending EBooks | Vending Magazines | Concession Equipment
Vending Trade Show Events | VendNews | Links | VendingYellow Pages Directory | Used Machines | Bulk Vending | Software | Locators
About Us | Coffee Vending | Snack Vending | Beverages | Full Line Vending | New Machines | Vending Supplies | Routes for Sale | ATMs | Kiosks
Healthy Vending | Candy Products | Soda | Combo | New Products | Parts Repair | Food Vending | Water Vending | Advertise | Site Map
THE VENDING START UP KIT© - PRINTED VERSION ©VendingConnection.com, Copyright 1996-2013, All rights reserved.